How Does the Servicemembers Civil Relief Act Work?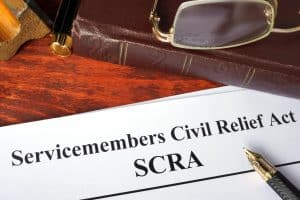 If you are or are a spouse of someone who is on active military duty in San Antonio or elsewhere in the country, educating yourself about the Servicemembers Civil Relief Act (SCRA) is more than worthwhile. The law was created to provide active military members with extra protection and assistance in the event of financial and legal challenges. Take a minute to learn about this important act and how it benefits your family.
The Servicemembers Civil Relief Act offers numerous protections and benefits for active military. It is designed to "postpone or suspend" civil and financial burdens while on duty. Protections and benefits apply to all active duty members in the Army, Navy, Coast Guard, Marine Corps, and Air Force, as well as Reserve members on active duty.
This act also applies to those on active duty through the National Oceanic and Atmospheric Administration or Public Health Service, and members of the National Guard who are active under federal orders for at least 30 consecutive days. SCRA protections include:
Issuing court orders to stop housing foreclosures
Providing eviction protection if the rent exceeds $4,214.28 per month, though the rental amount changes by year
Preventing storage facility employees from discarding or selling belongings in a storage unit if rent is overdue
Suspending divorce, child support, and other civil proceedings
Stopping vehicle repossession if one initial deposit or payment has occurred prior to joining a military branch
Benefits include maintaining a current phone number even if the military member cancels service because of a relocation that lasts three years or less, and ending internet, cable, and phone contracts if a relocation lasts more than 90 days. For the latter benefit to apply, the telecom service must not be available in the military member's new location.
Other benefits include:
Leasing a house in the event of a 90-day or more deployment without being penalized
Allowing a military spouse to end a housing lease if their partner perishes during active duty
Limiting increase on loans if they were taken out before joining the military, including those for student loans, vehicles, and credit cards
Allowing a military spouse to claim their home, their current location ( the state), or their partner's legal residence (again, the state) for tax reasons
Ending a vehicle lease in the event of outside the continental US deployment for a minimum of 180 days
Delaying various payments without it affecting the military member's credit rating
Preventing property repossession
Examples of SCRA protections
As per Section 521 of the SCRA, any active serviceperson enjoys certain protections in various civil proceedings. For example, say a military member fails to appear in court following a premises liability suit because they are on active duty. The plaintiff wants a default judgment issued against the member, or defendant. For the judgment to pass, the plaintiff must file an affidavit stating that the defendant is a military member. If the plaintiff is not certain whether the defendant is on active duty, the affidavit must say so.
No judgments can be made against the defendant until they have a court-appointed attorney. Should the judgment occur, the defendant has the opportunity to defend themselves, such as saying they were deployed at the time of the legal claim filing and could not leave their post until a specified time. The court can also delay proceedings for up to 90 days in light of certain criteria.
Another example of SCRA protection concerns repossession of property. For example, say a military family is unable to make monthly payments on a recently-purchased vehicle due to various financial challenges. One member of the family is on active duty. If the vehicle was purchased prior to the military member's active duty status, the vehicle cannot be repossessed without a court order. This protection also applies if a deposit or installment payment was made on the car or truck before the military member was on active duty. For the repossession to be legal, the creditor must file a lawsuit against the family and obtain the official order from a judge.
How the SCRA helps San Antonio's military families
In addition to providing various legal and financial protections to military families, the Servicemembers Civil Relief Act offers invaluable peace of mind. Military spouses are often stressed enough when their partners are on active duty and do not need extra anxiety from issues such as missed vehicle lease and house rental payments. Being able to retain their residence and other necessary possessions while their spouses are away and tackling the issues when the military members return allows family members to maintain their normal schedules. This is arguably extra important when the military families include young children, as the non-military parents get to focus on raising their kids instead of stressing about bills.
In the event of judicial proceedings, military family members do not have to worry about when their spouses must appear in court, due to SCRA-related postponements and stays of execution of judgements and orders.
If your family needs an attorney with military representation experience, contact Grable Grimshaw PLLC. This leading firm in San Antonio provides a full suite of family law services and represents clients from all of the city's military bases, including Fort Sam Houston, Lackland Air Force Base, Randolph Air Force Base, Kelly Air Force Base, and 324 Training Squadron Lackland Air Force Base. Call our office or complete our contact form to schedule an appointment with a member of our team.